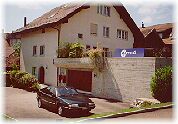 Corrodi Gauge company,
CH-8904 Au / ZH

(founded in 1947) specialises in the production of precision- and control gauges for industry, aviation, medicinal technology, measuring techniques and trade as well as measure bases for the most modern measuring instruments. The extensive gauge options of diameter measuring from 0,1 to 300 mm with a precision of 0,0001 mm, which is guaranteed by the Partner Company "Corrodi Testing AG" - the official accredited calibration laboratory no. 0039.

Using the most modern measuring machines (SIP 7x, Movotelit 2x, Master-scanner 10060, Zygo laser micrometer system), our measuring laboratories can guarantee the control of inspection, measuring and test for over 1000 customers.